Bicycle Newfoundland and Labrador is interested in partnering with organizations that support our mission, mandate and objectives. We believe that partnerships should be a win situation for both parties and we are interested in discussing your goals and priorities in order to develop a sponsorship and/or advertising package that meets our collective goals. To further discuss partnership/sponsorship, opportunities please contact the BNL President at president@bicyclenl.com.
Resource: BNL Sponsorship Opportunity Package
Thank you to our sponsors:
Robert Conway, Co-operators agent - Annual Optional Level Supporter

NL Balance and Dizziness Centre

Partner Discounts
The following stores offer a 10% discount on non-sale biking accessories such as clothing and other items at the discretion of the shop (excludes bicycles). This offer is made to members of Bicycle Newfoundland and Labrador. Proof of current membership is required.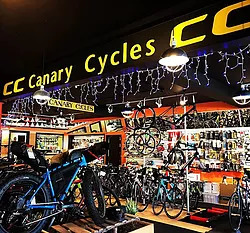 Canary Cycles
Way back in 1972, Joe (owner), an avid road and cyclocross racer who raced in Europe and Quebec arrived in Newfoundland and fell in love with the terrain and character that this fine province had to offer. Upon discovering the lack of serious bicycle shops Joe decided to start up Canary Cycles as a hobby of sorts. This family Business has grown ever since and so has cycling in Newfoundland and Labrador.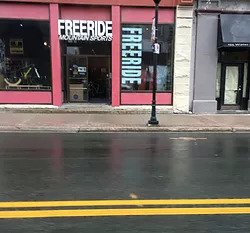 Freeride Mountain Sports
Freeride Mountain Sports was established in 1997 by Chris Jerrett, a former World Cup cross country racer and Canada Cup downhill racer. Freeride, as it is known, was built around Chris' passion for the sport of mountain biking and helped spawn a whole community of world class mountain bikers. The passion for riding and racing that Freeride embodies led to the initial development and current support of a large proportion of the mountain bike trails in St. John's.
The Outfitters
The Outfitters carry the largest selection of outdoor and active lifestyle products in Newfoundland & Labrador with a commitment of knowledge, quality equipment and first rate apparel at our 2 locations.
The Outfitters offer a 10% discount on all Sugoi cycling apparel and accessories to current members of BNL.
Modo Yoga
Modo Yoga opened its doors to the St. John's community in February 2012. Locally owned and operated, Modo Yoga is an amazing group of teachers, ambassadors and members who help bring the benefits of yoga to the community everyday. Modo welcomes beginners and experienced students – Modo Yoga is a place for all.
Modo Yoga St. John's offers a 15% discount on membership and 5 or 10-class cards to current members of BNL.
Fun 'N' Fast
Fun 'N' Fast is locally owned and operated and has been in business for 30 years! Fun 'N' Fast is a dealership in Newfoundland and Labrador.
The Outfitters
The Outfitters carry the largest selection of outdoor and active lifestyle products in Newfoundland & Labrador with a commitment of knowledge, quality equipment and first rate apparel at our 2 locations.
The Outfitters offer a 10% discount on all Sugoi cycling apparel and accessories to current members of BNL.
Cycle Solutions
After opening in 2003 with a humble one-showroom location on Brook St, Cycle Solutions has since expanded exponentially; taking residence on Maple Valley Rd, and finally ending up on West St in 2006. This excellent location is what they now call home, enjoying all the space they need in their massive upstairs showroom, featuring industry leading brands from the Cycling World. Downstairs houses the apparel and running sections, featuring high quality and comfortable brands that will get the customer out in any season!
Minipi Outfitters
Minipi Outfitters, known locally as the Fly Shop, has been selling top-quality gear for outdoor pursuits since 2001. Owners Robin and Beverly Cooper have a vast collection of equipment that ranges from fly-rods and reels to bikes, stand up paddleboards and canoes. The shop also hosts a variety of brand name clothing and footwear, watches and sunglasses.
Bicycle Associations
Bicycle Nova Scotia is a not for profit organization that is invested in promoting cycling culture, improving infrastructure, and strengthening the cycling community in Nova Scotia.
Canada Bikes is a federal not-for-profit corporation with a mission to encourage Canadian residents and visitors of all ages to cycle more often for transportation, recreation and touring by making cycling attractive, safe, accessible and convenient across the country. The mandate of Canada Bikes is to significantly increase cycling infrastructure and ridership across Canada by providing a strong national presence and a reasoned voice for cycling.
Cycling BC is the provincial governing body for the sport of cycling in British Columbia. They represent the full range of disciplines including Road, Track, Cyclo-cross, Mountain Biking, BMX and Para-cycling.
Cycling Canada Cyclisme (CCC) is the national governing body of cycle racing in Canada.
Cycling PEI is a non-profit, volunteer-directed provincial body for bicycling.
International Mountain Biking Association Canada (IMBA Canada) is a national not for profit organization that advocates for mountain bike and trail access across Canada.
The Alberta Bicycle Association is a not-for-profit association run by professional staff, relying on membership fees, fundraising, and government support for operating funds. The mission of the organization is to advocate, develop, and facilitate bicycling for Albertans.
The Ontario Cycling Association is the provincial governing body for the sport of cycling in Ontario with the goal to develop, promote and deliver quality programs and events from recreational riders through to competitive racers.
The Manitoba Cycling Association is the not for profit, volunteer based Provincial Sports Organization responsible for the promotion and development of cycling in Manitoba since 1980.
The Saskatchewan Cycling Association is a volunteer non-profit association that promotes bicycling for sport, recreation, and transportation.
Velo NB is the official representative body of Cycling Canada in the province of New Brunswick.
Velo Quebec is a non-profit organization that has played an important role on the Quebec cycling scene for the past 50 years. It constantly encourages the use of bicycles - whether for recreation, tourism or as a clean, active mode of transportation - in order to improve the environment, health and wellbeing of citizens.
Miscellaneous
Canada Games Council In 1991, the Canada Games Council was incorporated as a private, non-profit organization responsible for the ongoing development of the Canada Games. The Council is the governing body for the Canada Games.
CAN-BIKE. The CAN-BIKE program administered by Cycling Canada Cyclisme, is a series of courses on all aspects of cycling safely and enjoyably on the road; it is oriented toward recreational and utilitarian cycling.
Newfoundland and Labrador Injury Prevention Coalition (NLIPC) NLIPC is responsible for injury prevention through education, awareness, promotion and participation.
NL-Visually Impaired Sports and Recreation Association (NL-VISRA). A Newfoundland and Labrador Parasport group. For further information, call Nadine Green, President, at 745-6797 or email NadineGreen87@hotmail.com", change the telephone number to 727-1677 and the email address to NLVISRA@outlook.com.
Ordinary Spokes Ordinary Spokes is a community bike co-op located in St. John's NL. It is a collectively run, D.I.Y. organization with a mandate to increase access to affordable transportation for everyone.
Parasport NL - The word "para" is a Greek word meaning "one more" and parasport has become a term that describes sport for individuals with a physical disability that parallels able bodied sport and often is offered parallel to or as a component of an existing sport. For information about ParaSport NL, contact Margaret Tibbo via email: parasportnl@gmail.com.
Pedal Magazine A national cycling magazine in Canada.
SafetyNL formerly the Newfoundland and Labrador Safety Council, is a non-governmental, not-for-profit organization dedicated to promoting health and safety at work, home and play.
Sport Newfoundland and Labrador is a volunteer organization committed to the promotion and advancement of amateur sport throughout the province. It represents 55 provincial sport organizations and over 70,000 individual members.
Sport Yukon is a non-profit society run by a volunteer board of directors. Its member organizations are territorial sport governing bodies, clubs and associations that offer a variety of sport, recreation and other community based programs.
Sprockids Sprockids was originally developed in 1990 as a Self Esteem/Anger Management Program to help students succeed in school. Since then, Sprockids has evolved into a multi-faceted program engaging thousands of young people in the life long activity of mountain biking while teaching them the skills, values, and strategies to succeed in life. The program is now used in over 20 countries by teachers, coaches, cycling clubs, youth organizations, law enforcement agencies, and parents.
The Canadian Paralympic Committee (CPC) The CPC is a non-profit, private organization with 25 member sports organizations dedicated to strengthening the Paralympic Movement.
The Newfoundland T'Railway Council is a non-profit corporation dedicated to the development of a recreational trail from St. John's to Port aux Basques using the former Canadian National railway line. Its mandate is to promote multi-use trail development and to preserve abandoned railway lines for future use such as hiking, biking, equestrian, snowmobile, ATV and cross-country ski trails. Other uses like dog sledding and snowshoeing may be appropriate in certain regions.
The Union Cycliste Internationale (UCI) also called the "International Cycling Union" in English is the world governing body for sports cycling and oversees international competitive cycling events. The UCI is based in Aigle, Switzerland.
Triathlon Newfoundland and Labrador (TriNL) is the governing body for the sport of triathlon in Newfoundland and Labrador.
Visitors
Newfoundlandlabrador.com is an online resource for discovering everything you need to know about travelling to and around Newfoundland and Labrador.
Destination St. John's Providing information for visitors, travel planners, media for incentive travel, meetings, conventions in St. John's and Eastern Newfoundland, Canada.